This generation of boxing fans have had to put up with something that at no other time in the sport of boxing have fans had to put up with and that is "Fight Marination" and inevitibly as a bye product "Over-Marination" . Some say it started with Floyd Matweather and his super fight with Manny Pacquiao which took around seven years to get signed, which ended up a bit of a snooze fest. Others say it started back in the 90's when Lennox Lewis looked set to fight Roddick Bowe in what would have been the biggest fight of that golden era of heavyweights, but after square up's and heated exchanges the fight had over-marinated one thing led to another and intrest petered out robbing fan's of the chance to see the best Heavyweight Title fight in a generation. No matter who is to blame for this frustrating and greed based addition to making the biggest and best fights, It looks here to stay.
Over the past 6 years Britain has had two of the best 147lbs fighters in the world in Amir Khan and Kell Brook which has seen fans foam at the mouth at the prospect of both men meeting in the ring for what would be the biggest domestic super fight since Benn/Eubank in the 1990's. For years we have had Eddie Hearn tell us this fight would sell out Wembley stadium. We have had Kell Brook call out,insult and mock Khan on a weekly basis tying to goad him into the fight. Although this fight made so much sense at one time Amir Khan would not budge, bite nor waver in his resolute to throw Brook a bone. You see At the same time that Brook wouldn't leave sheffield and chase big fights , Khan was out challenging the best in the division and picking up some big paydays along the way in the US . Although Brook was a World Champion his CV was weak and Khan used this to his advantage not to come home and fight Brook as Brook needed Khan a lot more than Khan needed Brook .
I think the real reason that the Khan/Brook fight didn't happen is that although this fight would have made Khan a career high pay day four years ago , he just doesn't like Eddie Hearn or Brook , instead of throwing Brook a bone he decided to take on the likes of Danny Garcia and Lammont Peterson , keeping the Brook fight as an option whilst trying to make fights with Floyd Mayweather and Manny Paquaiuo which never happened , in a period that also seen Khan badly KO'd three times , which really calmed all talk of the Brook fight being made and the fight looked all but dead .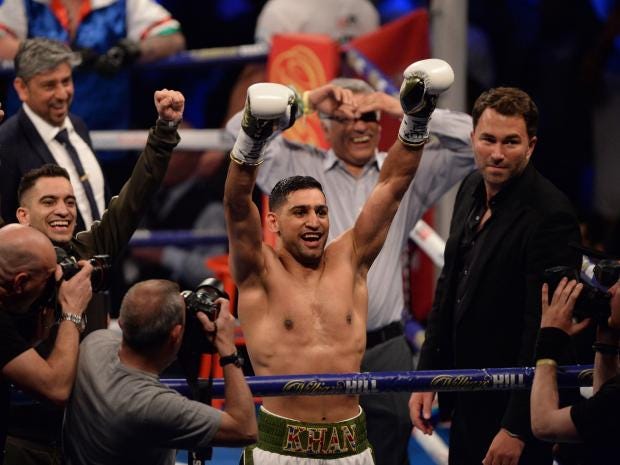 Now years have passed and as it goes in the crazy world of boxing Amir Khan has now signed a promotional deal with Eddie Hearn's Matchroom boxing , reigniting hope that the Khan/Brook fight can now be made , i mean it makes sense right ? ….Well I'm not so sure . A lot of people don't like to admit this but Amir Khan is still bigger name in boxing around the world than Kell Brook and that's why i have my doubts that this fight will ever be made . I think Eddie Hearn will use Khan on his Matchroom USA show's to help get them established in the US . Khan has already said there is more chance of him fighting Adrian Broner than Kell Brook , and that would need to take place in the US to maximise interest , and that would be a great statement by Matchroom that they are serious about there US Venture .
So where now for Brook ? , Well Brook has now lost his 147lbs title and moved up to 154lbs , one of the most stacked divisions out there at the moment but still not a lucrative division . The only route i see open to Brook is the WBO route , where champion Sadam Ali will face Liam Smith in May . Im sure Brook and Eddie Hearn will be praying that Ali wins that fight as it would be a lot easier to get a fight with Ali signed as Smith fights for Frank Warren and there is no way he would let Brook get his hands on the title . Kell Brook is not finished just yet , he could easily cash out with a Jerrett Hurd or Charlo coming to the UK in what would be a Sky PPV event , but i believe Brook's next loss is his last one so i don't see him rushing to sign up to fight those guys if he can avoid it .