There is an old saying that an old boss of mine used to use " If you fail to prepare , then prepare to fail " and at the time it used to rile me but after seeing how Frank Warren has handled this whole Carl Frampton fighting at Windsor Park in August , i am now finally starting to see wisdom in his words . After Frampton beat Nonito Donaire in his last fight it was announced that Carl would be fighting next in Windsor Park on the 18th August . At the time it had a lot of us thinking who is it going to be as most other real contenders already had fights scheduled and would not leave a lot of time to turnaround .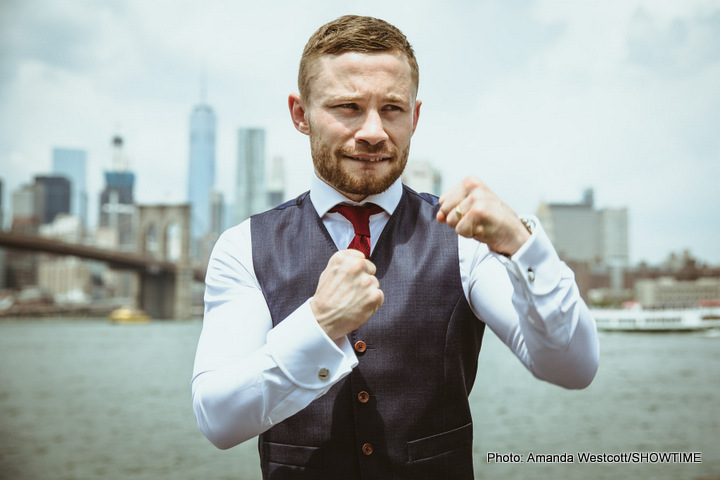 It had been expected that Warren was hoping that the winner of Warrington/Selby would come through unscathed , even Carl Frampton was ringside to call out the winner which suggests to me that even Frampton thought this was the case . After Warrington beat Selby he looked to be up for a quick return to the ring in Belfast but Frank Warren soon put that to bed in the post fight media conference ……So what now ?
World Champion Leo Santa Cruz will also be busy when he takes on Abner Mares , who is another top ten fighter in the division . Garry Russell Jnr just fought another top 10 contender in Jo Jo Diaz last weekend which would all but put them out of the running  , There was talk that Kid Galahad might be drafted in but word is that Galahad will be served up to Josh Warrington as mandatory  . Oscar Valdez is recovering from a broken jaw he received against Scott Quigg …..Well there is Scott Quigg who would love to have a rematch with Frampton but there is the small matter of him being an Eddie Hearn fighter and with no title on the line I'm sure Hearn would rather see this show fall apart than let his man save it . One go my friends made a decent prediction that it could be Rigo at a catchweight but i doubt that Carl wants that .
My big fear is that Frank Warren is looking to cash in on Frampton's fanbase and take advantage of his thousands of die hard fans . The fact is that an opponent has to be named soon to give sufficient time to have a proper camp and the closer it gets the more it is looking like it is going to be an inferior opponent . Frampton said he signed with Warren with the guarantee that he could fight at Windsor Park so i think that puts any talk of this show being cancelled to bed , especially when you factor in that if and when Frampton/Warrington happens it will be in Leeds and not Belfast as Warrington is World Champion and a massive draw himself , whilst Frampton fans have proved in the past they will travel in there thousands . I fear the backlash Warren and Frampton could receive if they don't pull a rabbit out of the hat here .